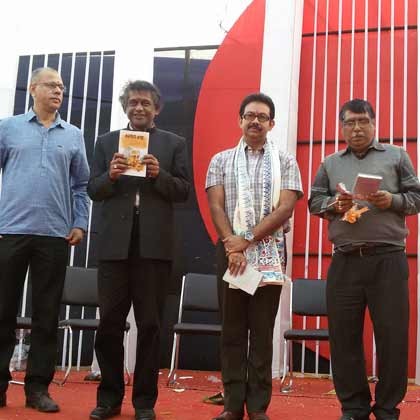 Days with Books
Laced with tea gardens on one side and the highway to Siliguri town on the other, I've always loved visiting this campus. It's kind of a relief from the everyday urban life. And, when it turns into the venue for a book fair, what else can be more interesting? On the pretext of the 1952 killing of students and protestors in Dhaka, as a tribute to the Language Movement and the ethno-linguistic rights of people around the world, Siliguri Institute of Technology celebrated 'Days with Books' from 20th to 22nd February inside their campus. The most outstanding was the stage – built as a replica of the Shaheed Minar in Dhaka to commemorate the International Mother Language Day on 21st February.
It was not just a book fair, but a celebration of books and beyond. Stalls were set up on the ground beside the main college building where publishers displayed a wide range of books – text and reference books, fiction, non-fiction, spiritual, and books of every genre. Leafing through a good book standing amongst the young crowd, with the hilly wind blowing through the trees is a different experience all together. The college authorities had arranged for the campus launching of three of my recent books – 'Pupils' President APJ Abdul Kalam', 'Kalam Katha' and the travelogue 'Duniyadari'. Seeing so many young students reading and discussing books is an unmatchable pleasure. I thoroughly enjoyed sharing my travel experiences with them.
Cultural programmes were staged day-long by the students of both Siliguri Institute of Technology and Techno India Group Public School Siliguri. A group of students of the school enacted the gory 21st February of 64 years ago in an enthralling soul-stirring play. The talented students of Hotel Management cooked delectable items in the live-kitchen stalls set up in the garden outside.
Another beautiful area to stroll down was the art workshop. The colourful canvases and the sculptures are so skilfully made, that they deport any creative soul into another world. The solo musical skit performance by actor Gargi Roychowdhury had the audience glued, and the students learnt immensely from the inspiring speech on books and reading by eminent author Pracheta Gupta. Our very own Ashoke Dasgupta, the Chief Editor of Aajkaal inaugurated the Care and Share Unit – a philanthropic unit undertaken by the school. All the items collected by the unit will be donated to underprivileged children.