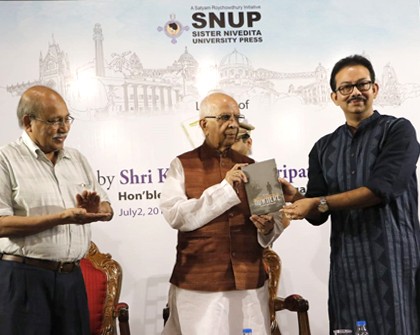 An Evening of Books, Poetry and Calcutta
SNU Press Book Launch
2nd July, 2019, 5 pm – 6 pm, Brown Room, Raj Bhavan
Sister Nivedita University Press released its first two books 'From Nowhere' and 'Calcuttadotes' at the iconic Brown Room of Raj Bhavan, on 2nd July 2019.
'From Nowhere' is a collection of poems written by Honorable Governor Shri Keshari Nath Tripathi. And 'Calcuttadotes' is an anthology of 20 short stories edited by Ms. Joie Bose.
Just a year old and Sister Nivedita University launched its publication division with the brand name SNU Press on 27th June, 2019. And the first two books were officially inaugurated on 2nd July at Raj Bhavan. The one hour program not only witnessed the book launch, but the presence of Honorable Governor of West Bengal, Shri Keshari Nath Tripathi, Chancellor of Sister Nivedita Satyam Roychowdhury, Vice Chancellor of SNU, Prof. Ashoke Ranjan Thakur and eminent personalities of Kolkata from various spheres and professions under the same roof.
Consul General & Consulate representatives of several countries such as His Excellencies- Mr. Masayuki Taga Consulate General of Japan, Ms. Sweeya Santipitaks, Royal Thai Consulate General, Mr. Zha Liyou, Consulate General of The People's Republic of China in Kolkata, Mr. Mahmud Khan, Vice Consulate General of USA and Mr. Fabrice Plancon, Director of Alliance Francaise du Bengale.
Other dignitaries present in the program were Air Chief Marshal Arup Raha (PVSM AVSM VM ADC), Former Chief of Indian Airforce and Mr. Chandra Sekhar Ghosh, CEO of Bandhan Bank. From the cultural segment, famous danseuse Ms. Alokananda Roy and Mr. Rupam Islam of the famous musical band 'Fossils' were also present.
At the outset of the event, Satyam Roychowdhury, Chancellor of SNU delivered the welcome speech followed by the announcement of the two books. He also presented the book titled 'From Nowhere' to the Honorable Governor.
Ms. Joie Bose, who was the driving spirit behind 'Calcuttadotes' was vocal on stage about the entire endeavor and thanked Shri Keshari Nath Tripathi. Her speech was followed by the release of 'Calcuttadotes' by the Governor himself. Not to mention, the forewords of this book was penned by his excellency.
Mr. Shahenshah Mirza, from the lineage of Nawab Wajid Ali Shah, the last Nawab of Awadh, and one of the authors of 'Calcuttadotes' read out two paragraphs from the book and we Kolkattans drifted back to history. Ms. Rita Bhimani, Founder and CEO of Ritam Communications dedicated a sonnet that she composed specially for the evening. She also narrated her story from 'Calcuttadotes' in short.
The Honorable Governor was then invited to the podium to say a few words to the audience present at the Brown Room. The poetic speech by Shri Keshari Nath Tripathi made us Kolkattans proud as he said how much he is in love with the City of Joy. He also mentioned about the poems compiled in the book 'From Nowhere'. It was an honest confession that he made publicly. Shri Tripathi said that the poems came to his mind while sitting alone, or talking to people, while travelling. He noted down words, lines in his memory, sometimes in pieces of paper, which later took the shape of these beautiful verses.
The program came to an end with a vote of thanks from Prof. Ashoke Ranjan Thakur, Vice Chancellor of Sister Nivedita University.