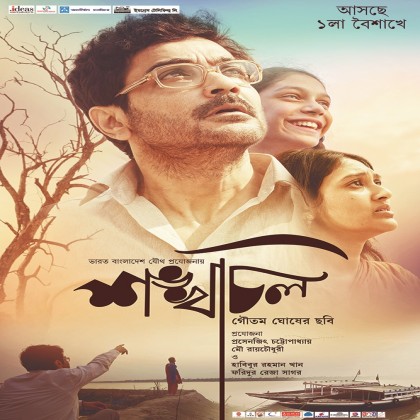 Shankhachil Music launch
It was the perfect sky on March 12th at the Mohar Kunj – the cerise streaks across the twilight blue. Shankhachil is truly a film about the torment of the India-Bangladesh partition. The producers, cast and crew are from both the nations, and that's what strengthens the essence of the film. I am proud of my wife Mrs. Mou Roychowdhury for her involvement in this film with such a sensitive script. She is co-producing the film alongwith veteran actor Prosenjit Chatterjee, and from Bangladesh's side the two producers are Habibur Rahman Khan and Faridur Reja Sagar.
When I knew it was a film by ace director Goutam Ghose who we all lovingly call Goutam da, I knew Mou was making the right decision. Goutam da's words are very true – birds and rivers have no borders to cross. Staring up at the birds that were flying back to their nests, I felt a strange connection with the name of the film – Shankhachil. I have always been awestruck by his films – he crafts his movies with perfection in the plot and the characters. Shankhachil is an Indo-Bangladesh venture starring Prosenjit Chatterjee and Bangladeshi actress Kusum Sikder in the lead. I heard the village where he shot for his upcoming Indo-Bangla film Shonkhochil has an interesting name – Chakpanital. It is a village where there are houses of both sides and people live together. The film also stars child artist Shaajbati who has done a wonderful job, veteran actor Dipankar Dey, Mamunur Rashid, Priyanshu Chatterjee, Nakul Vaid, Riaz Mahmood, Ushasie Chakraborty and Arindam Sil in pivotal roles.
The story revolves around a border tragedy about a couple and their ailing daughter. The story starts rolling when they come to Kolkata for the girl's treatment. It's a family drama encircling a crisis. The movie is gearing up for release on April 15th – Poila Baishakh. The trailer has been released and music has been launched too. The album comprises of songs of the greatest poets of all times - Rabindranath Tagore, Jibanananda Das, Mukunda Das, Kazi Nazrul Islam and Rajanikanta Sen. Talented singers of the Bengali film industry and the folk-singers of Gorbahanga have lent their voices to infuse life into the lyrics. This is a kind of music launch which is different from typical music launches of film music; it teaches you a lot even before you've watched the film.