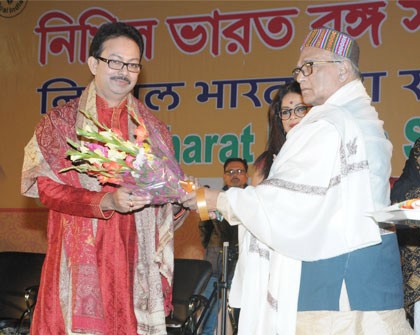 88th Nikhil Bharat Banga Sahitya Sammelan - Ranchi
The Ranchi trip has been a great experience! The three-day 88th session of the Nikhil Bharat Banga Sahitya Sammelan opened its gates at the National Games Campus at Khelgaon, Ranchi on 10th January.
Hon'ble President Shri Pranab Mukherjee lit the inaugural lamp, his association with the organisation being a 36 years old journey. He said – literature, politics and society are intricately inter-connected. Literature is the reflection of the society and the political scenario, and vice versa. Being a regional organisation with its history dating back to Rabindranath Tagore as its first President in 1923, it is truly of a national character. Both the Governor and the Chief Minister of Jharkhand were present. Chief Minister Shri Raghubar Das promised a Rabindra Bhavan, an eight crore project in Ranchi. I must mention one more thing. Getting introduced to Smt. Draupadi Murmu, the Governor of Jharkhand was a very positive feeling. Very humble yet firm - she was the only lady on the dais. Pradip Bhattacharya, the present President of the Sammelan spoke about Bengal-Jharkhand fraternity. Jayanta Ghosh, the General Secretary warmly welcomed delegates from across the country. It was a prestigious opportunity to have shared the stage with the President and other eminent ministers.
On 10th evening, the song recital Gitanjalir Golpo was staged. It was an amazing creative bond on stage with Saheb Chattopadhyay – not only a popular television actor but he is like a younger brother to me, Biplab Ganguli – a dear friend, and Iman Chakraborty – a talented singer and a close confidant. What left us extremely glad is the way the audience responded, some people even stepped forward to have a few words with us.
For those three days, a special Ranchi edition of Aajkaal was taken out which proved to be the hot cake of the event. Almost every person in and around the auditorium was reading the newspaper, praising our efforts. Successful events in the first month of the year definitely indicate a positive time ahead, indeed.