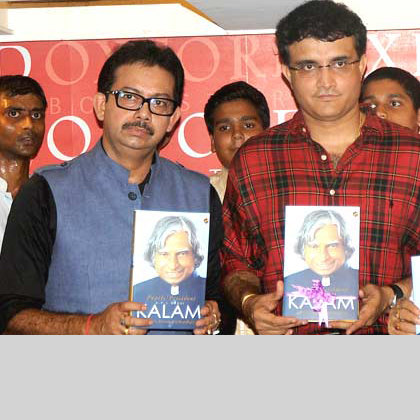 Pupils' President - APJ Abdul Kalam
On the auspicious occasion of Teacher's Day on 5th of September , I have paid my homage to the Teacher of Teachers Dr. APJ Abdul Kalam - former president , by launching my book "Pupils' President - APJ Abdul KALAM" at Oxford Book Store , the book was launched by ace cricketer Mr. Sourav Ganguly. Quite a number of eminent personalities and dignitaries were present there.
Dr. Kalam used to say that "Dream is not that you see in sleep, dream is something that does not let you sleep''. Throughout his life he chased his dreams, and only because of that from a Paperboy he evolved into the President of the world's largest democracy. The eight year old boy who used to vend newspapers in Rameswaram became the eleventh inhabitant of the Rashtrapati Bhavan. He outlived life through his deeds for a nation. Even at 83, he had indomitable verve and spirit. Even 27th of July, 2015 the day he breathed his last, he was in his work, addressing the students. But there are some people who actually don't die. Their death-defying spirit continues to live on through their deeds, dreams, and their words.
This book can be a priced possession for all as it has edited compilation of articles, speeches, media reports and other sources from print, web, tributes from scientists and academicians across the globe. I believe this book will make a mark in student's mind.
Dr. Kalam has been an inspiration ever since my early youth and especially when I ventured to set up Techno India Group with my elder brother,30 years ago - to invest in the future of our younger generation. The story of his life, the intensity of his quotes, and the depth of his books is everything seemed to have merged effortlessly to form a motivation within me. Moreover Literature has always been my passion, and thus, this book.