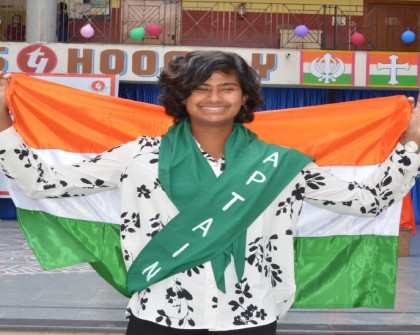 Blog of Titas
I have always been a believer in the power of youth. This is why the schools and colleges under the aegis of Techno India Group pay special attention to students who excel in sports and other co-curricular activities.
I am elated from the core of my heart for our very own Titas Sadhu of Techno India Group Public School Hooghly for winning the Player of the Match at the World Cup U-19. It is a matter of great pride for me that she hails from my hometown Chinsurah (Chunchura) in Hooghly. We all are overawed at how she has performed at the U-19 World Cup! Techno India Group has over the decades been supporting emerging talents like Titas. This coincides with one of our upcoming grand projects – a full-fledged and systematically
equipped Sports University Complex, the first of its kind in West Bengal. The
foundation stone of Netaji Subhash University of Sports & Entrepreneurship, has already been laid in Chinsurah, Hooghly to promote sports education, sports science, sports technology, sports management, sports coaching and an international training centre.
I express my heartfelt congratulations to Titas Sadhu. May she become a lighthouse for many others who have sailed their ships on the similar waters.