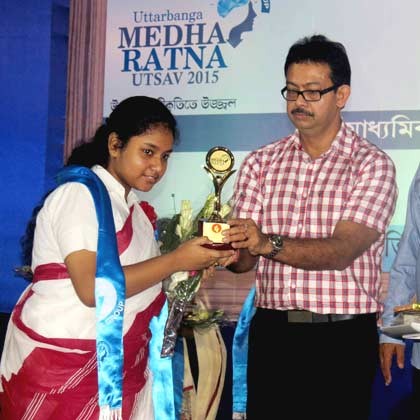 "Uttarbanga Medharatna Utsab" - The Festival of Acknowledging Talents
Techno India Group takes pride of celebrating "Uttarbanga Medharatna Utsab" for 3 consecutive years at Techno India Group Public School, Siliguri Campus. The programme is aimed to felicitate, the toppers in Madhyamik, ICSE, CBSE & Madrasa Board every year from different schools of North Bengal .This year 50 toppers from 10 cities of North Bengal have been felicitated on 4th of September. Moreover, Techno India Group has issued scholarships to a number of economically challenged students. This year Techno India Group has also created an account, named "Medharatna Fund" of rupees 10 lakhs for helping that genius students, who are the gems of society, who will create a magnificent India, and will take India to the heights, to touch the zenith. I want partnership & contribution from the community to build up a strong fund so that Techno India Group can help more insolvent bright students, to help them to complete their studies. I'm sure with all our support & handholding the students will be able to fulfill their dreams.
This year, eminent writer Mr. Samaresh Majumder was present at the "Uttarbanga Medharatna Utsab". He said, at his time they could not get this kind of opportunity, but now the students are getting this chance to prove themselves, by holding the hands of Techno India Group. This organization has paved the path for them to march forward, and students have to march forward to ignite the torch of literacy, honesty, and truthfulness. This day Techno India Group also helps the destitute and deprived students of a primary school at Salbari.
Actually I believe a "Good Human Being" is not only depended on the academic qualities but he should stand beside each individual. I want my students to be able to pave a path towards a corruption free society where peace & honesty prevail.