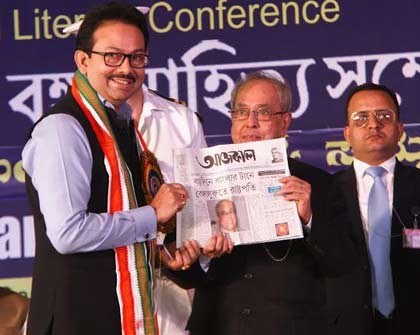 89th NIKHIL BHARAT BANGA SAHITYA SAMMELAN Bengaluru
It was a bright Christmas morning in Bengaluru, and security had been tightened across Duravaninagar. A road lined with trees on both sides stretched from the crossroad towards the gate, sunlight and shadow reflecting on its grey concrete surface. The most important person of the day – the Hon'ble President of India would arrive in an hour.
Looking back to the inauguration ceremony of the 89th Annual Literary Conference of the Nikhil Bharat Banga Sahitya Sammelan on December 25, 2016 at the ITI Vidya Mandir, the moment I should first mention is when I got the opportunity to present the special Bengaluru edition of Aajkaal to Shri Pranab Mukherjee, sharing the stage with the Hon'ble Governor of Karnataka Shri Vajubhai Rudabhai Vala, the Hon'ble Chief Minister of Karnataka Shri Siddaramaiah, the Hon'ble Chief Justice of the Karnataka High Court Shri Subhro Kamal Mukhopadhyay, and other dignitaries.
Sitting on the fourth chair on his right, I had to look on my left for quite a few minutes after the inaugural lamp was lit and the felicitations were done. Shri Pranab Mukherjee was avidly reading Aajkaal, his eyes fixed on the reports as he flipped the newspaper.
He turned nostalgic as he said that Nikhil Bharat Banga Sahitya Sammelan is entwined with his soul. Not only has he been associated with the organisation for more than fifty year, but he has been the President of the organisation twelve times. This being the 89th annual conference, the centenary is just eleven years later. The President is so attached with this annual literary conference that he wished amidst his speech that he remains in good health for the next one decade to be able to attend the centenary celebrations.