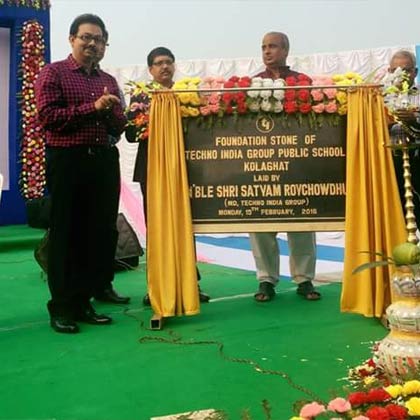 Foundation Stone of TIGPS Kolaghat New Building Laid
Standing amidst the management, staff and students of the Kolaghat TIGPS (Techno India Group Public School), I felt I am journeying on the right path – my aim of setting up schools in district and sub-district level. My vision is to make education available at every nook and corner of the state. The foundation stone for the new school building was laid on 15th February, the brick being the symbol of the root that education is, of a successful life.
When students perform, it is always a treat to the eyes, and the inaugural song presented by the students of the school added vigour to the occasion. In the speech of the Principal of the school Ms. Philomena Gonzalez, I found the promise of a strong hand holding the reins of improvement.
It was such an honour to have the gracious presence of Mr. Tapas Patra, the General Manager of the Kolaghat Thermal Power Plant as the Guest of Honour. The songs of Srabani Sen and verses of Bratati Bandopadhyay – who visit all of our school campuses as mentors, transported us into a different world of music and poetry. Effort put in by every single person – delegate, staff, student, is highly appreciable. I don't count my achievements because I believe in keeping up the work steady, and this ceremony has strengthened my hope in my vision.